a lakeside garden and airbnb
Cottage Lake Gardens
is a 3-acre forested property nestled on the east shore of Cottage Lake in Woodinville, Washington just 20 miles from Seattle. It is a hidden jewel just now being discovered by northwest gardeners and out-of-town visitors. It is both a private botanical garden famous for its legendary "Trillium Trail" and spring Trillium Tours. Trilliums are an endangered wildflower native only to North America and a small section of NE Asia. The garden has one of the world's largest collections including all 50 Trillium species, a must-see for any gardener. The property also has two luxurious lakeside Airbnb vacation rentals which are very popular, usually booking a year ahead. They include a larger (two floor) Lake House or the smaller (one floor) Lakeside Apartment. They can be rented separately or together directly through Airbnb at the links shown on our Airbnb page.
Video about the Trilliums at Cottage Lake Gardens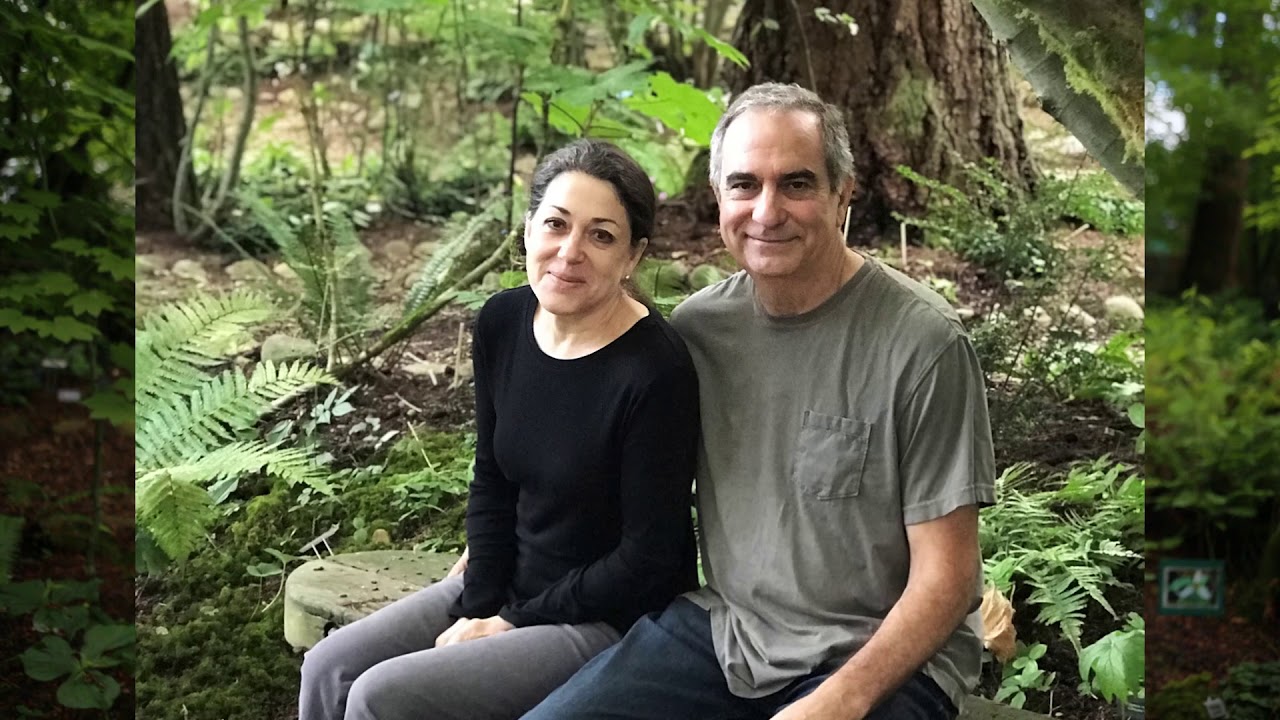 About Our Gardens' Owners
Kevin and Susie Egan are the owners of Cottage Lake Gardens, a 3-acre private botanical garden that hosts dozens of garden tours each year including the popular Trillium Tea, Talk & Tours, and a small on-site nursery where Susie grows her specialty plant - trilliums - from seed. She sells her trilliums as well as other rare and unusual perennials at her trillium tours, by appointment and through this website. Their newest venture is the opening of two Airbnb vacation rentals for out-of-town visitors looking for a relaxing, beautiful lakeside stay while being close to the 100+ wine tasting rooms just ten minutes away.
Susie retired after a 35-year career in managing law firms. She then started a second career in the field she loved: gardening and horticulture. Susie is now a master gardener, landscape designer, and garden lecturer giving gardening talks throughout the region as well as internationally. Susie likes to think she is helping Mother Nature by making the world a more beautiful place with plants.
Kevin continues to work in the biotechnology industry - a career that has spanned over 35 years. With advanced degrees in biochemistry and molecular biology and also an MBA, he began his career working for biotech companies , later at the executive level. He then began his own company offering business and technology consulting services to the biotech industry. In his spare time he helps Susie manage the property and vacation rentals.
Susie and Kevin have begun to see their hard work pay off with the development of Cottage Lake Gardens which has become a destination spot for both gardeners and travelers worldwide.
Cottage Lake Gardens Address (by appointment only)
17301 191st Ave NE
Woodinville, WA 98072
Cottage Lake Gardens Airbnb Address (see Airbnb page for links to make reservations)
17257 191st Ave NE
Woodinville, WA 98072
Phone or Text:
(425) 785-3449
Email us

to learn how you can buy tickets for our garden tours, purchase our Trillium plants for sale, and book our lakeside vacation rentals.